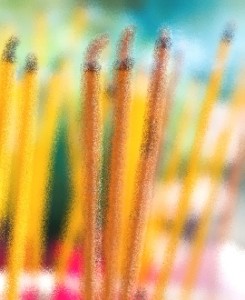 Pure Incense
offers you a chance to experience the essence of ancient temples and holy places.
Made with love using flower petals, tree resins and rare essential oils, it is considered temple grade. This means that it has to be of a high standard for use in ceremonies and worship of the Divine.
Therefore when used in your home, it enhances your yoga, meditation and prayer.
Made with good intent by Brahmin families in India, Pure Incense is guaranteed fair trade and no child labor used.
Each individual pack is designed around the fragrance and a spirit poem on the back of the pack sets the mood of the incense.
Contact: Patrick Lowe at 073 187 0828
Take your time to see the various fragrances available on the site, there are wholesale and retail prices available. Alternatively you can contact us for a list of retail outlets or health shops that carry the range:
Cape Town

Organic Living, Constantia: 021 7945078

Steps To Health, Diepriver: 021 7125050

The Good Stuff, Claremont: 021 6744380

To Your Health, Rondebosch 021 6851795

Health Fayre,Rondebosch: 021 6853288

Nourish, Newlands 021 6867871

Wellness Warehouse, Kloof Street 021 4875420

Healing Tree, Sea Point: 021 4398147

Health Matters, Sea Point: 021 4345490

Healthy Life, Waterfront 021 4215443

Wheelers, Hout Bay 021 7907047

Eastern Cape

Healthwise, East London 043 7267685

Avalon Books, Port Elizabeth 041 3674000

LangaLapu, Plettenberg Bay: 044 5348297

Pure India, Knysna: 044 3826901

Kwazulu Natal

Earthmother Organic, Glenwood: 031 2021527

Food for Thought: 031 765 2071

Shraddhamurti Yoga, Manors: 031 7093301

Johannesburg Area

Nutribalance, Sandton: 011 8848753

Nutribalance, Benmore: 011 8833602

Loving Nature, Sandringham:011 640 3999