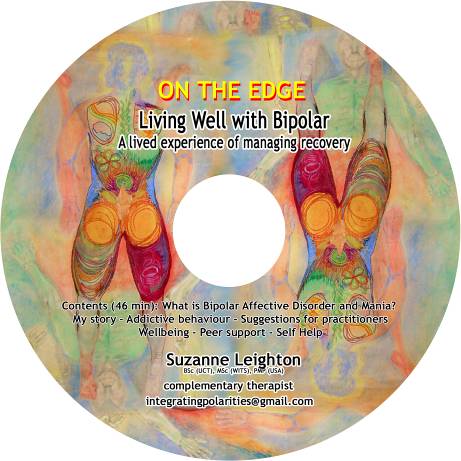 "On the Edge"
Living Well with Bipolar
A guide to recognising the signs and practical self-help available to all those willing to take responsibility for their own lives
CONTENTS
What is Bipolar Affective Disorder? (BPD)
My Story
Addictive  behaviour and bad habits
Well-being
Peer support
Suggestions for practitioners
Self-help
Please use the contact form below to request your DVD.
You will also receive by email a self-help manual and articles on depression and BPD.
In this remarkably honest and insightful interview about INTEGRATING POLARITIES, Suzanne describes how she faced the dragon of Bipolar Disorder head-on and befriended it; moving from being a victim to a hero of her own life.  She discusses her traumatic journey towards healing with a holistic approach using many varied modalities to nurture and support. Her aim is to reduce the stigma and mystery surrounding Bipolar Affective Disorder (manic depression). At present, Suzanne is running workshops to facilitate difficult conversations concerning depression, mania, self- harming and suicide, in addition to bespoke workshops on stress management, team and community building.
The DVD is aimed at sufferers and their families or support people; however, it has also been well received by GPs, psychiatrists, psychologists, schools, social workers, nurses and complementary practitioners.
Suzanne  Leighton
Complementary Therapist
BSc (UCT), MSc (WITS), PMP (USA)
Practice number: 106 000 0216224
Private Practice:     Counselling combined with massage

Special interest:     Mental health (depression, mania, bipolar, post-natal depression)

Group Therapy:      "Hero Book":  Art and narrative group workshop.

U-tube (7 min) http://youtu.be/Sbqm7NNl26c
Next course: 6 Wednesday mornings starting 26 Jan 2012 at Casa Labia, Muizenberg
Care of the Carers: Wellness workshops

Corporate:              Team building, wellness and stress management workshops

Awareness:            Workshops "Integrating Polarities" at schools/community/corporate

Support groups:      Details of existing groups, how to start a group and ongoing supervision

Mediation               Facilitated conversations with family groups

Community             Large group facilitation for creating alignment and a way forward

Sharing                   Human Library Projects
________________________________________________________________________
To request a copy of the DVD please call Suzanne on 084 293 321, or use the contact form below: